So this morning after meeting a friend for breakfast, the inevitable ensued: shopping. We were only going to "check out some stuff", but i ended up buying 2 pairs of shoes (as if i needed them!), which i greatly feel the need to share! First, these great gladiator sandals, which i find totally cute and subdued compared to some other victim versions we've seen in the past. The best part? Only 20 bucks!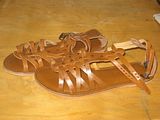 Next up, these AMAZING soft suede pumps(although i am pretty certain they are nubuck...). "Timeless" is what i told myself... "there is no way i can pass these up. I will only kick myself later." And get ready: a measly 50 bucks! With an intergrated platform. Reminiscent of a pair of Sergio Rossis belonging to my mother... And of the lovely YSL Rive Gauche pumps from the fall 05 collection (minus the ankle strap). Sometimes i am a lucky gal.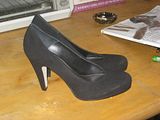 I must say, the Aldo liquidation centre is mostly garbage, but if you look (just a mild peruse, even!), you can definitely find some worthiness! It's incredible what you can find in a mere 15 minutes...