I'm not going to hide the fact that i'm not a fan of miss Irina Lazareanu (actuallay, i've mentioned this before). I just don't see what is so special about her. Maybe that can be attributed to her look. I can't quite put my finger on it, but i think it's her look that i don't like. If you were to ask me my frank opinion, i pick Coco Rocha over Irina any day in the tall-lanky-and-pale-brunette category. However, i was pleasantly surprised by her Chanel fall shots. How lovely does she look !??!!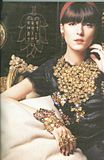 I feel as though this may be the turning point for me into Irina fandom. Could it be? I remember last year, it was the same story with Daria. Wasn't a big fan, saw her Chanel ads, then just loved her. Is it maybe the brand has such power that it makes these girls... irresistible? It's hard to say because in my mind, the Chanel girl is someone very specific. Let me try to paint the portrait i myself depict as the ultimate Chanel embodiment: i feel like she is somewhat of a high-class ingenue. A young lady who is understated in her way of dressing, yet who is strongly cultured, outspoken, incredibly smart, very classy - and classic - somewhat rebellious, trendy, and completely unphased by how rich she is. Someone who smokes, but who always smells good. Someone who's hair is messy yet done. Someone who commands attention without attracting it. Someone with natural elegance. Someone who is just freakin cool. When i think Chanel, i think the epitome of parisian chic. I think Lou Doillon, Vanessa Paradis, Diane Kruger.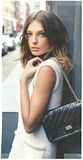 Anyway, the picture here of Irina is sumptuous. I could stare at it for hours. I think she looks like a breath of fresh air. She embodies the brand. The polar opposite of tacky. Just like Daria did before her.
Needless to say, i understand this:
although i must say i am a little perplexed by it. Were they right by issuing a letter like this? Was it really necessary? Is it essential for the notoriety to live on? Are they right or completely wrong? Tough call, in my opinion...