Ok once again i have to apologize for my absence. Hopefully it made your hearts grow fonder, because my semester is O-V-E-R and i will be able to update myself with all the going-ons of the fashion world to report back to you. I am finally able to breathe. It feels kinda nice, actually. Anyway, I feel as though it is time to tell you a little bit about myself. I've refrained from doing so in the past for 2 simple reasons: 1) the only people who actually read and kept up with my blog were people i knew, and 2) i've never felt compelled to reveal such data because i just didn't see what the use was. Who cared about me, when the real subject was fashion here. Anyway, so now i see the following information as slightly pretinent due to the news i'm about to deliver. Basically it goes like this: i'm a fashion student at the University of Quebec in Montreal (UQAM) in my 3rd year. Yes i'm actually getting a Bachelor's degree doing this, for those who were wondering. I'm 23 years old and a taurus (ok, so maybe, that tidbit is a little superfluous), and I fancy a career in the publishing industry.
I've already professed my love for fashion magazines
, and now i'm one step closer to my dream.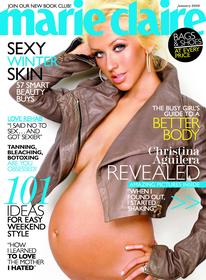 During my brief hiatus, i wasn't only up to boring school work. I've managed to earn myself a fashion internship at
Marie Claire
magazine in New York City. This is huuuuuuuuuuuuuge for me! I've been wanting to do this for years and now i can do it for school credit... Even though i've been longing for such a position ever since i entered the program, everything is happening so fast! I'm starting in january and i still have to find a place to stay, SOOOO if any of you dear readers happen to be new yorkers and looking for a roomate or know anyone looking for one, please drop me a line! An honest proclamation would be to say that that i am quite easy-going, so don't be shy! Excuse-me but i am off to rejoice...