Last week i attended this Fashion event called Fashion for humanity. I figured it might be good for networking and since it was being hosted by a "local celebrity" (note my quotation marks because that term is very relative and losely employed...) i thought there might be some excellent people watching - which there was! - hors d'oeuvres and an open bar - which there was not, very unfortunately! Anyway, amidst all the over-groomed or under-dressed Montrealers mingling there was the fact that everyone there was in attendance to show their support to a very important cause: helping women with AIDS in Africa. The soirée gave way to a funky fashion show, having "Africa" for a theme. I took some pics for your viewing pleasure, however i was standing up, my batteries were dying and i was kinda busy at the bar when they announced the show was about to start, so my position was less-than-ideal. What i'm trying to say is pardon the poor quality! (click on the pic to enlarge)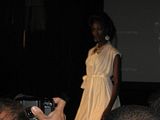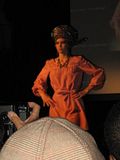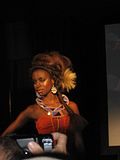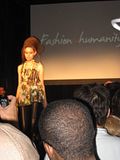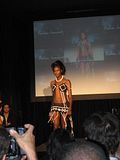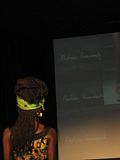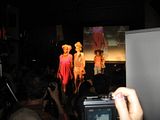 After the show, there was a live band that performed and they were amazing, actually! It was comparable to Wyclef and Lauren Hill or Mary J. Seriously! Anyway all that to say that the girl singing had a really cute jumper and i couldn't resist showing off her outfit to all of you! Wish i could've caught their name... and i'm too retarded to figure out who they are on the flyer.
And here are my lovely dates.
First we have Gaby,
whome i've previously featured on this blog
. I brought her to be "discovered"! Laugh all you may, but some Quebecer singer asked her to be in his video. Ha! But seriously, do we blame him...?!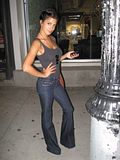 Gaby is wearing an H&M tank top, J Brand Lovestory jeans, Old Navy t-strap platforms and a leather vintage purse.
Next up we have Eliza, writer of the fabulous
my empty closet
. although you can't tell, this girl has seriously got the most amazing eyelashes i've ever seen!
Eliza is wearing a vintage skirt, belt and bag and a Marc by Marc bracelet.
And here is me, striking a pose... ps highest heels i own... 4 3/4"!
i'm wearing a vintage dress, a Marc Jacobs bracelet and Bakers heels. Yes i know, hey are the Dior imitations, but i couldn't help myself, they're sick!!