Dear readers,
I've come to the realization that when being so busy you want to rip your head off and all your dreams consist of being able to relax, sit down, veg in front of the tv, read a magazine, whatever, when that time finally comes, i am always faced with the same tune: bored out of my grits. Although it does feel fabulous to not really have any serious things to do, no deadlines and no stress, it somehow stresses me to have nothing to stress about. Ha - vicious cycle as we call it! What does this have to do with fashion, one might ask? Well, all this time has - kind of - left me with the time to further explore all my upcoming fashion projects. I say kind of, because let's face it, the more time you have on your hands, the less you tend to do. Isn't it always like that? Isn't there a saying that goes something like "if you want to get something done, ask the busiest person you know"?? Anyway, so i am working on a few things that i will be able to share in the near future. For starters, i've been working on putting up my online portfolio that you can view
here
. I'm also currently in the process of researching a possible venture in Paris for the Fall (if anyone knows of anything - preferably in publishing - do not hesitate!). Of course, there is a lot more coming, but it's all pretty hush-hush for now!
And with that said, I was in nyc last weekend and of course, like any respectable fashionista (and armed with a bran new hair cut!), i went to check out the new Topshop. I am habitually the first person to accuse others of cynicism when they cry out something such as "OMG IT WAS SO DISAPPOINTING!". I mean let's face it, my fellow shoppers generally get so enthused with the buzz surrounding these shops they place all their hopes and dreams of finding the holy grail of garment that it's almost inevitable these dreams will kick the bucket right in there. My point being, I entered the British giant with an open mind, knowing very well the prices were more French Connection than H&M and prepared to have to be very choosy with the pieces i were to set my sights on in order not to put too much of a dent in my already growing debt. With 4 floors of never-ending racks (the bottom floor being the men's and the 3rd floor containing the shoe gallery, or however they call it) you'd think one would be able to find at least a few pieces that make your heart aflutter. Ladies (and gents), i did not find 1 item of clothing that i deemed imperative to own. A cute layered fringe dress that i fancied alas was unavailable in small sizes and nothing in those 4 floors of trendy overload jumped out at me and said "YOU MUST OWN ME!!". My whole point was to get a pair of shoes and a piece from the Kate Moss collection. First off, Kate's collection was incomplete. I don't know if it was because it had already been picked clean and not replenished or if Sir Philip simply decided not to bring the whole line stateside, but so many items were missing, such as
this jacket
. Anyway, i almost got
this dress
, but again, i felt like i could use a smaller size and i wasn't ready to shell out 250$ for something i wasn't absolutely in love with.
I didn't leave completely empty handed, however! I did get a pair of shoes... I had been lusting after nude colored footwear for quite some time now, as they make the legs seem 5 miles long. I found a reasonably-priced pair, that is also very comfy, all the while being sky-high, just as i love 'em. And they make my legs look - you guessed it - 5 miles long!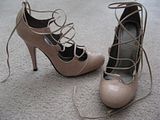 This extremely long post would not be complete without me talking about my visit the the amazing UES store
Bis designer resale
where i made the most amazing finds (and steals!). Basically, think mint condition vintage designer garb at a fraction of the price. The ladies who work there are so sweet and extremely helpful, unlike the staff at, say,
Resurrection
, the bicoastal designer vintage boutique that holds court on Mott street in Nolita, which i entered and immediately wanted to exit. Think snobby youngish salesgirl who gives you the up-and-down without and inch of a smile and stares at you angrily as you hesitantly skim the racks. Never going in there again - whoa! Anyway, so for those of you who never venture above 14th street, this is very much worth the trip! My purchases at this fabulous treasure chest include:
Michael Kors boots (original price still on them: 695$) for 150$:
Amazing Rochas black long sleeve silk t-shirt with cashmere hems and intricate lace detailing at the back for 89$:
Navy YSL classic silk blouse (will look amazing with distressed denim!!):
And the pièce de résistance: Bottega Venetta purse for 250$! The sales lady still couldn't believe it hadn't gone yet!:
On that note, my friends, i will conclude this little installment of my life.